Summer Holidays!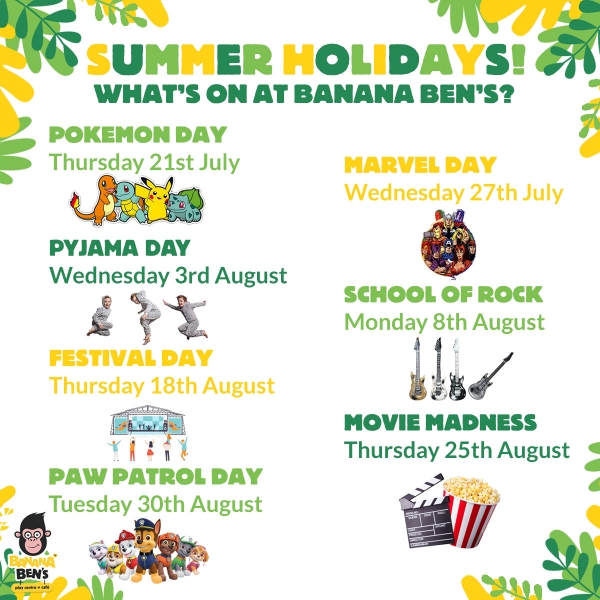 13/07/22
We have a FANTASTIC Summer planned!
Are you ready for this?
Schools will be closed and it'll be time to relax and have fun for the rest of the Summer!
Our session times from Saturday 16th July to Sunday 4th September will be:
9:00-11:00am
11:30-1:30pm
2:00-4:00pm
4:30-6:30pm
Pokemon Day
Thursday 21st July
Join us as we make and decorate our very own Pokeballs and try to find all the Pokemon hidden around the centre - Gotta Catch 'Em all!
We have heard on the grapevine that a very special visitor will be joining us to meet and take pictures with you…
Marvel Day
Wednesday 27th July
Well kid, You're an Avenger now..
If you would like to help us find the Infinity Stones and make a Bang! or Hit! sign, you will definitely want to come and see us on this day!
We got in touch with Nick Fury and he has told us that he will send some heroes our way to see you!
Pyjama Day
Wednesday 3rd August
We wish we could spend every day in Pyjama's so we want to see your guys favourite ones!
Our favourite thing about a sleepover is getting lots of snacks to enjoy with your friends. We will have Biscuit Decorating for you to do and will also have a Treasure Hunt to win some sweets!
School of Rock
Monday 8th August
Channel your inner musician and come and visit us!
We will be having a rockin' disco with some inflatables and maybe even some karaoke!
Festival Day
Thursday 18th August
This year we are throwing Banana Ben's Fest and we want to see your best Festival outfits!
Obviously, we will be playing some awesome summer tunes but we will also be doing face painting, tattoos and colour and design your own guitar!
Let's go to the Movies & Movie Night
Thursday 25th August
Let's go to the moooovies – let's go see the stars!
Join us as we celebrate our favourite films, with lots of fun activities and crafts!
Family Movie Night
4:30-7:00pm
It's time to bring the family together as we turn Banana Ben's into a cinema for one night only!
Join us as we watch the original Cinderella, with an interval for play, special guest visitors and there will be ice creams, hot dogs, nachos, chips, popcorn and drinks specials for you to treat yourself!
Doors open at: 4:30pm
Film begins at: 5:00pm
Tickets:
Aged 1 and over: £8.00
6-12 months: £2.00
0-5 months: Free
Adults: Free
Paw Patrol Day
Tuesday 30th August
Whenever there is trouble around Banana Ben's, Ryder and his team of pups come and save the day!
Would you like to come and do a hunt to see if you can find the people of Adventure Bay that need the Paw Patrol's help? You can also colour in your own pup!
Pre-school Mornings
Monday 25th July
& Wednesday 10th August
During the summer holidays, on Monday 25th July & Wednesday 10th August in our 9:00-11:00am sessions, we will be open exclusively for our younger pre-school customers!
Please book this via our website at www.bananabens.co.uk
Hairdresser/Barber
Tuesdays 12:30-3:00pm term-time
Tuesdays during the Summer Holidays
Brand new to Banana Ben's!
2 birds, 1 stone!
We have a hairdresser on site for children's haircuts, braids, curls, hair tinsel etc!
You can book and pay for this on your arrival* and a time slot will be allocated to you!
*Additional cost applies.