Gift Vouchers
Treat someone to a gift voucher to allow them to access the amazing facilities at Banana Ben's!
They can sit back and relax with a coffee, whilst the little ones can play on our state of the art equipment or let their imagination run wild on our role play street; Banana Ben Boulevard!
Vouchers are available in £10, £20 and £25 denominations. We have options to print at home, collect on site or get them delivered to your door.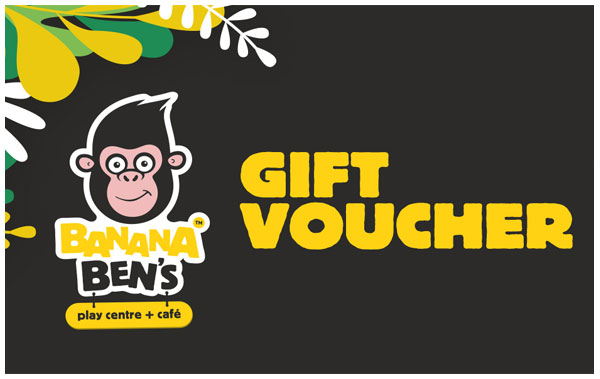 Terms & Conditions
We do not store credit card details nor do we share customer details with any 3rd parties
Vouchers cannot be used in conjunction with any special promotions or discounts
Gift Vouchers cannot be replaced if lost, stolen or destroyed
Gift Vouchers cannot be refunded or exchanged for cash. If the full amount has not been used no change or cash refunds will be given, but any balance remaining on the voucher may be applied to future purchases
Gift Vouchers are sent using first class post should this delivery option be selected. Not recorded delivery
If an intended purchase is for a higher amount than the face value of the Gift Voucher(s), the difference can be made up with a credit card payment or cash
Vouchers cannot be sold to any third parties without our consent. If we do give our consent, then such consent may be subject to any conditions which we impose. In any event you may not sell the Gift Vouchers through the internet without our express written consent, which you must obtain before making any such sale. We reserve the right at all times to refuse to permit any sale of Gift Vouchers by you to a third party
Gift Vouchers will be dispatched to you with the equivalent monetary value you have chosen
Once purchased, no refunds will be offered